Eight Catering Trends for 2013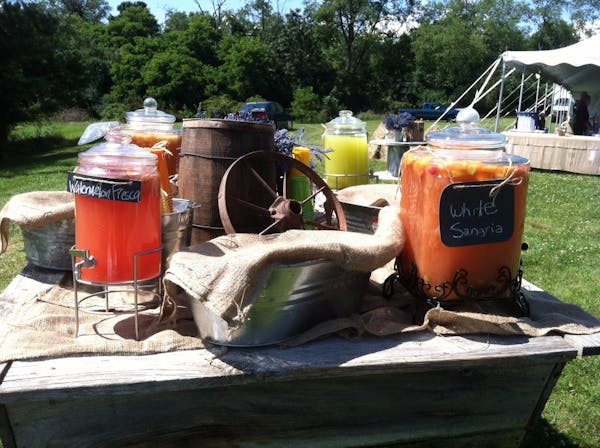 Lola's Cafe shares Eight Catering Trends for 2013
Posted by Annalise Puckette on Fri, Feb 22, 2013 @ 12:09 PM
Wedding season is approaching fast. This year Lola's Café has put together new and unique trends for the catering season! There are so many different customizable ideas you can do for a wedding to make it your own. It is our job to deliver exceptional food and service! We have come up with a list of 8 Catering Trends for 2013.
Getcha Shooters Here!
One of Lola's Catering trends is having mini shooters with your hors d'oeuvres. People like to see mini bites of food, but when they see mini bites of food with a mini shooter… they go crazy! Some ideas we have for your hors d'oeuvres this year are listed below:
Mini burgers with milk shake shooters
Grilled cheese with tomato soup
Chocolate chip cookies and milk
Shrimp skewer with margarita shooter
Hot dog wrapped in a pretzel with beer shooter
Lights, Camera, ACTION!
What better way to give your guests an experience other than having an action station?! Let's take the idea of the traditional buffet, one step further. Let's put one or two chefs behind a table in the dining room and actually cook your guests' food to order. Maybe something you love, like risotto! We can have a few different types of sauces, vegetables, and braised rabbit or crab; you name it! Let your guests have fun going up to choose what they want in their food! Maybe you want to have a taco station instead or a slider station with 10 different types of condiments? Maybe you want to have a station that has to do with your cultural background?
Action stations give your guests more time to converse with each other and give them a customized dinner to fit what they like!
Let's talk Bubbly…
One trend we love: beverage stations. How to do it? Pick the drink you want at the station. Next, ask Lola's to set up a display at the cocktail hour with the glassware, spirits and all the mixers. For a bubble bar, have champagne, prosecco and sparkling California wine. You also need liqueurs, like Chambord, Schnapps and St-Germain and juices like pineapple, cranberry and orange juice. Then set out pretty bowls filled with fresh peach, white grape and pear purees (think Bellini) as well as raspberries and blackberries for garnishes. Your guests can pick whatever they like and enjoy their very own custom-made cocktail!

We are FAMILY!
So let's get together and sing??? Not quite, but let's make our dinner service served family style! This year we have seen more brides and grooms requesting their reception be served family style to take the structure out of the sit down meal. There is more interaction between guests because they have to pass all the dishes. We have more mingling and more of a chance the night will be unforgettable.
Family style is served on platters and placed in the center of all the tables. We can do smashed red bliss potatoes with caramelized onions, roasted root vegetables with garlic and olive oil, country fried steak, buttermilk fried chicken… the ideas are endless. Just remember that with family style service you will not need anything big for the centerpieces!

Hudson Valley Fresh
Local foods convey health, better taste and offer good marketing potential on menus. One trend that has become more and more important to clients is that caterers support the local farms and cook as organically as they can. Lola's Cafe sources as locally as possible, for the freshest product we can get. We let the farmers dictate to us what fruits and vegetables are available. We get the freshest products this way. We are what they call a farm to table restaurant.

It's 10 PM, can I get fries with that?
It's super late. You have been drinking and dancing for 2 hours straight. Dinner was served two and a half hours ago. All you want is a late night snack when out pops a hot dog cart right next to the dance floor! This hot dog cart has condiments galore! You don't know what to even choose!
Another trend for 2013 is having a late night snack for your guests. Whether you have a hot dog cart, gyro station, espresso bar, cookies and milk, or a food truck with pizza. Your guests will love it!

Can I have a little bit of everything?
Some guests can never choose what they want. A tasting menu is an array of food samples allowing the guest to try a little bit everything. Guests are sampling several courses of food, which tends to be a longer service. They can turn a tasting dinner into a wine dinner, by pairing each course with a specific wine (or if you are looking for a modern twist, maybe pair your courses with a microbrew). With a tasting menu, the dinner is dedicated to the actual food and conversations with other guests. This is usually for a smaller wedding party.

What's your Flavor?
To make a menu unique and represent their backgrounds, many couples are serving different ethnic foods. Some try to use Indian spices to flavor their dish or chimichurri for their filet of beef. Combining many different cultures through your food can lead to a more creative and diversified wedding menu. Offering crepes, empanadas, and chicken tikka can really knock your socks off your guest!

No matter what trend or style, Lola's expert staff will fulfill your every desire! Come in for your menu consultation today, so you can make your wedding day, a day to remember.