Lola's Cafe Cooks on the Walkway Over the Hudson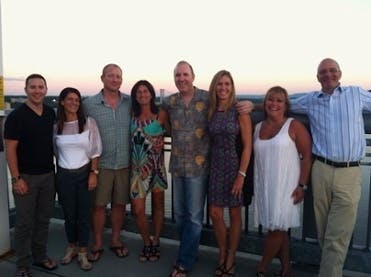 Lola's Cafe cooks on the Walkway Over the Hudson
Posted by Annalise Puckette on Thu, Aug 01, 2013 @ 01:20 PM

Every year, Lola's Cafe donates a raffle item at the Starry Starry Night Fundraiser that the Walkway Over the Hudson puts together. Lola's Cafe donates dinner for 6 on the Walkway Bridge.
Last night, the winners of the 2012 raffle chose to dine out on the bridge. CIA trained, Chef Ed Kowalski, owner of Crave and Lola's drove out to the first bump (from the Highland side), where he set up a beautiful table overlooking the Hudson River. Around 7:00, the diners were dropped off by the limo and they walked to meet us on the bridge. The diners started off with Prosecco donated by the Walkway Bridge and soon after Chef Kowalski had the first course.

Walkway Over the Hudson Dinner 2013
~Composed Salad~
FIG & HIERLOOM TOMATO
Black mission figs / assorted local heirloom tomatoes / fresh garden herbs / feta cheese
~Second Course~
SHRIMP WONTONS
Pan fried house-made shrimp dumplings / sesame seaweed-edamame salad
~Entrée Choice~
SEARED TUNA
Soba noodles/ pickled vegetables/ tropical salsa/ spicy red curry-coconut pudding
NEW ZEALAND LAMB CHOPS
Heirloom vegetable ceviche
For dessert, they enjoyed a raspberry chocolate tart with fresh berries, and house whipped cream. The diners walked off the bridge around 9:30 to be picked up by the limo driver who brought them back to Poughkeepsie.